We´re sure you´ve heard by now that Apple´s latest iPhone will be available in a navy-blue color, set to replace the signature Midnight Green of the iPhone 11 series. This new shade looks nothing short of epic and we´re pretty sure it´s going to be a runaway hit! But will it look good in any old phone case? Let´s be honest, probably not!
But worry not, we´ve compiled a list of 10 cases which will coordinate perfectly with your new blue iPhone!
Best cases for blue iPhones (quick summary) – the clear winner is the Rhinoshield CrashGuard NX, it fully protects your phone WITHOUT covering your device. If you´re after something a little funkier, go check out Case-Mate´s ´Soap Bubble´!
´Soap Bubble´ by Case-Mate
This one´s for the ´bubbly´ personalities, Case-Mate´s iridescent ´Soap Bubble´ case glistens (kind of like a soap bubble) when exposed to sunlight and is a surefire way to draw attention to your phone.
Not only will your blue iPhone look stunning, but this case also has built in anti-microbial protection (yeah, Case-Mate definitely hit the mark when naming this one!).
BEST FOR – ´bubbly´ personalities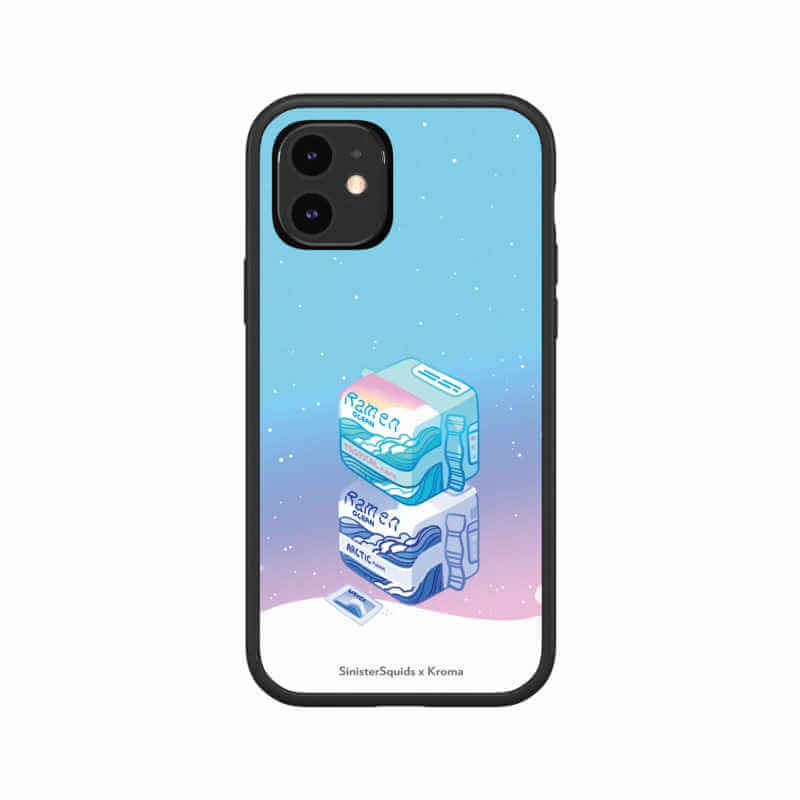 This case is part of the ´Sinister Squids´ X Kroma collection – all the designs are funky cubist sketches set against purply blue backdrops. Granted, this case will cover the blue of your iPhone, but the funky design is so kooky and original that we couldn´t help but squeeze it onto the list!
Don´t be fooled into thinking that Kroma´s cases aren´t protective, they incorporate the latest ShockShield protection by Rhinoshield and withstand drops of up to 11 feet!
BEST FOR – fans of funky designs and instant noodles
This crystal-clear case by Spigen is specially engineered to showcase the color of your phone! It´s anti-yellowing too so you won´t be needing to replace it anytime soon.
The corners of the ´Ultra Hybrid´ are built with ´Air Cushion´ (AKA ´clumsy person proof´) technology so it´s also perfect for all you serial phone-droppers!
BEST FOR – serial phone-droppers
´Clear Eco-friendly with Black Ridge´ by Pela Case
This should be your number one choice if you´re after something environmentally friendly. All Pela´s products are 100% compostable so you can enjoy your new case guilt free!
The great thing about Pela is that you won´t have to sacrifice style for the sake of  your eco-principals, their clear phone cases look AMAZING and the ´black ridge´ running round the edge of the case will be the perfect complement to your blue iPhone.
BEST FOR – eco-warriors 
´Vintage Butterfly´ by Velvet Caviar
Let´s be honest, you can´t go too far wrong with cute monarch butterflies! This case by Velvet Caviar will perfectly complement your iPhone´s blue hues AND it´ll be the envy of all your butterfly-loving friends too!
Velvet Caviar strikes the perfect balance between cute and protective (all their cases incorporate the latest shock absorbing technology)!
BEST FOR – butterfly lovers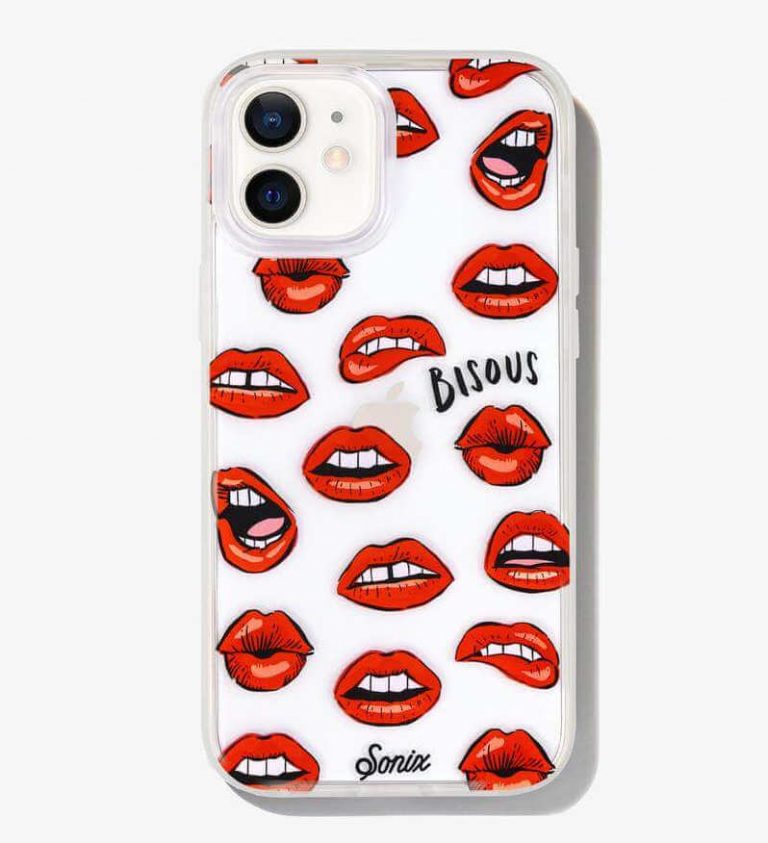 Red on blue not your jam? You won´t be so sure when you see Sonix´s ´Bisous´ case set against your blue iPhone. You´re in for a visual feast, we promise!
Like all Sonix cases, this design is super fun (if not a little flirty) and it´ll protect your phone in style (it withstands drops of up to 6 feet)!
BEST FOR – flirtatious, fun-loving types
´Starry Night Collection´ by Strawberry Cases
The twinkle of the silver and gold stars looks nothing short of celestial when paired with the blue iPhone 12! Choose from the twelve zodiac constellations and give your phone the radiant sparkle it deserves.
Strawberry Cases are the cheapest option on this list so get your mum/sister/best friend a case too, they´re sure to appreciate the gesture.
BEST FOR – budding astronomers
´Custom iPhone Case´ by Casetify
If you´re the hands-on arty type, then this is the obvious choice for you! Casetify have a selection of four different ´styles´ of case (with varying degrees of protectiveness) and absolutely everything is customizable. You can even write your name / initials / whatever pops into your head on your case in 6 different fonts!
Your blue iPhone 12 is sure to be looking tip-top when holstered in one of these custom cases. Casetify made their name on the back of their custom designs and we assure you they don´t disappoint!
BEST FOR – those who like a personal touch
´Around the World Handwritten´ by Gocase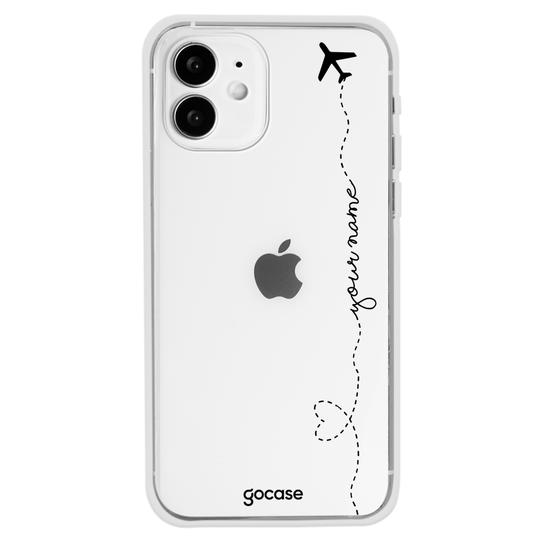 This simple yet oh-so-cute design is guaranteed to look great on your new blue iPhone. You can even add a personal touch by writing your name on the case!
These guys are the queens of all things floral and feminine! If that´s your jam, it´s well worth giving their webpage a quick once over!
BEST FOR – girly girls
´CrashGuard NX´ by Rhinoshield
So, you want to show off that navy-blue to the absolute max? We hear you! Step forward the ´CrashGuard NX´ by Rhinoshield, this case is literally just a bumper that fits snugly around your device.
What´s the point? Well, Rhinoshield are at the forefront of case innovation and this ´lowly´ bumper will bestow your phone with 11 FOOT drop protection! Incredible, right?
If that weren´t enough, this case is FULLY customizable and you can choose between an awe-inspiring 11 frame colors, 12 rim colors and 22 button colors!
BEST FOR – purists
We´ve tried our absolute best to add a little bit of everything to this list, but obviously we can´t please everyone! 
If you´re looking for a new phone case and you STILL can´t decide which one to go with, we recommend diving into our latest article – ´Cute / Stylish phone cases: The Ultimate Guide´.
Erika is a Mexico City based stylist and self-confessed phone case fanatic! She´s been building up her case collection ever since she got her hands on her first iPhone! Her husband reckons that she has more cases than she does clothes!