Slim cases, I´m sure you´ve seen them. You may even have felt a little envious of that sleek looking case that adds almost no extra bulk to your friend´s / colleague´s / Tinder date´s phone!
So, are these ´slim´ cases the Ferraris of the phone case world, or do they fail to live up to the hype?
In short, thin phone cases CAN be just as protective as many of their ´thicker´ counterparts. Protectiveness generally has more to do with design (material, raised edges, etc.) than the physical size of a case. That being said, the very slimmest cases on the market (and I´m talking 0.35-0.5mm thin) DON´T tend to be that protective.
What makes a thin phone case protective?
Raised edges are a fundamental component of any phone case. Obviously, if the ´lip´ of a case isn´t raised up slightly, the phone´s screen is left exposed. The same is true for the camera.
Well-designed phone cases will, at least in theory, protect your phone from all potential drop angles (unless, of course, you happen to drop your phone onto a jagged rock and the screen bears the brunt of the impact)!
Obviously, you don´t want your phone to fall out of its case and, yes, this can actually happen! A loose-fitting case will also be less likely to absorb the shock of a drop and can actually end up damaging or scratching the phone (uh-oh!).
Protective yet slim phone cases (a quick rundown of the very best!)
Slim iPhone 12 / Samsung Galaxy S20 case specs:
´Super Thin iPhone Case´ by Peel
These cases are built to mimic the chassis of your phone, they´re slim-line (only 0.35 mm thick) and come in pretty much the exact same colors as popular smartphone models (think of them as the chameleons of the phone case world).
A ´subtle´ raised edge protects both camera and screen, although ´subtle´ is definitely the appropriate word!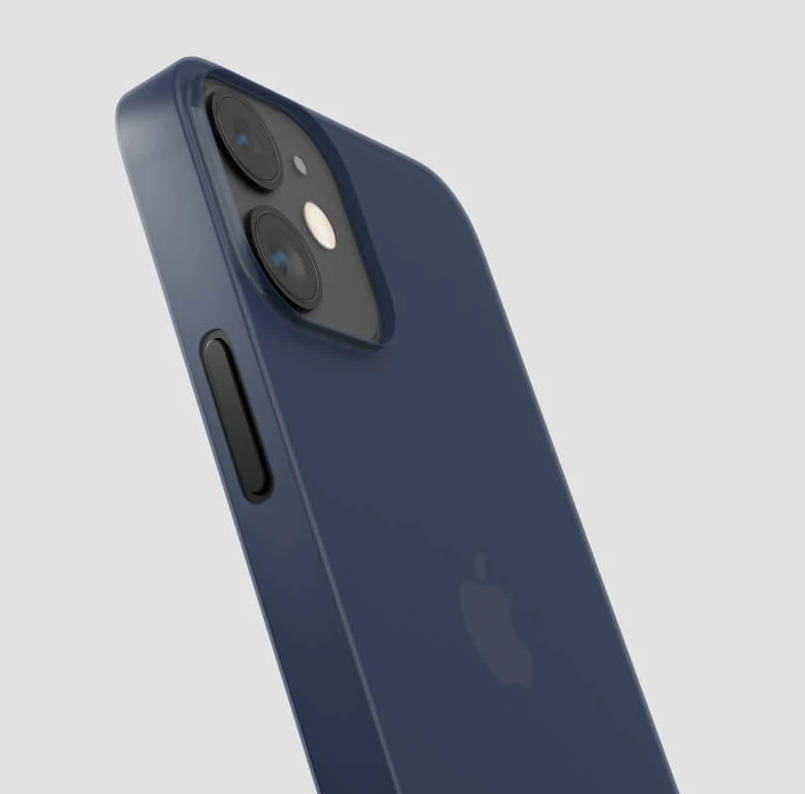 Overall – these cases are UBER thin but they´re not built for ´heavy-duty´ protection. Yes, they´ll protect from scratches and dirt, but your phone is unlikely to survive bigger drops unscathed!
Protectiveness – 1 star
How thin is it? – 0.35mm / 0.01 inches
´iPhone Case´ by Totallee
These guys know a thing or two about ´slim´ phone cases; their newest offerings are a tiny 0.5mm (´matte case´) and 1mm (´transparent case´) thick! They´re also feather light, weighing in at 0.1oz!
That being said, they´re not the most protective case on the market; they´re only really designed to protect against ´bumps, scratches, dust, and dirt´.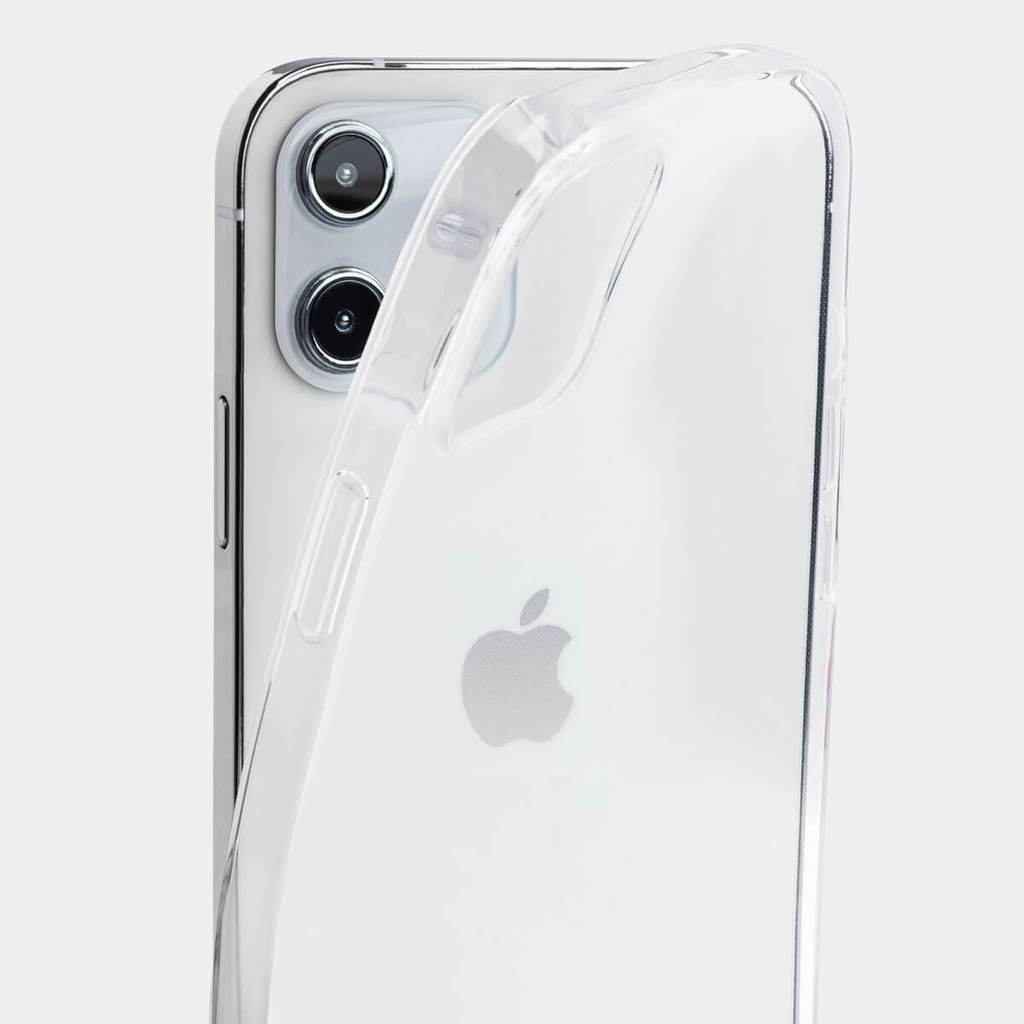 Overall – if you´re after slim and figure-hugging, then these are the cases for you! Don´t count on them saving your device from drops, though!
Protectiveness – 1 star
How thin is it? – 0.5 mm thick / 0.02 inches (´matte case´) /// 1 mm / 0.04 inches (´transparent case´)
This sleek case made from aramid fiber is both slim-line and super grippy, perfect for all you serial phone-droppers (my clumsy self included)!
And what´s aramid fiber?
Well, according to the Polymer Properties Database, ´Aramid Fibers are a class of extremely resilient and heat-resistant synthetic fibers´. Basically, it´s an incredibly strong and durable material with a futuristic name and look!
Overall – this one´s the grippiest of all the cases on this list and the super tough aramid fiber should protect your device from indoor fumbles and small drops!
Protectiveness – 2 stars
How thin is it? 0.65 mm / 0.025 inches
Another slender offering, the Ringke Air adds a meagre 1.5mm to your phone and is also feather light (0.48oz). This case is available in three basic styles, ´clear´, ´glitter clear´ and ´smoke black´, so it´s perfect for all you minimalists
And will it protect your phone? 
Well, it only really protects from scratches, dirt and light bumps. Basically, it looks the part, but it´s no armored tank!
Overall – slim and minimalist but lacking on the protection front!
Protectiveness – 1 star
How thin is it? – 1.5mm / 0.05 inches
´CrashGuard NX´ by Rhinoshield
We´re now venturing into slightly thicker territory (though 3mm still sounds pretty slim to me!), but the CrashGuard NX isn´t your average phone case! This case is literally just a ´frame´ and doesn´t cover either the back or front of your phone!
So, what´s the point? Well, the CrashGuard is a veritable armored tank and has been drop-tested to a whopping 11ft! It´s also infused with ShockSpread (ultra-tough) technology!
Rhinoshield also sell wafer-thin ´backplates´ AND super-tough screen protectors so you can mix and match depending on your mood / plan!
Overall – not the slimmest case on this list, but it only covers the side of your phone AND it´s super protective!
Protectiveness – 5 stars
How thin is it? – 3mm / 0.11 inches

´Symmetry Series Clear Case´ by Otterbox
Otterbox may be known for their super protective armored cases, but they also have some slim-line offerings!
Step forward the Symmetry Series …
These cases have super slim designs AND are built with raised edges around both screen and camera. They´ve also withstood drop-tests to three times that of military standard!
Now that sounds like a durable case!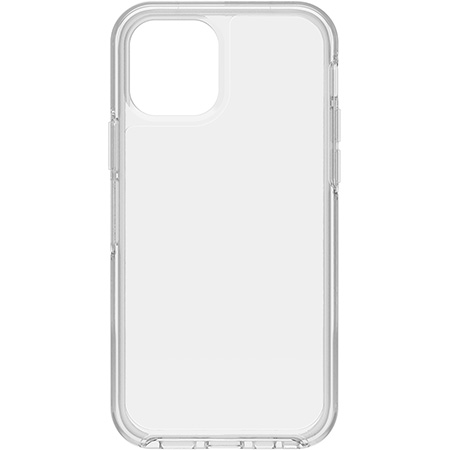 Overall – it may not be ultra-slim, but these cases are pretty protective (it is an Otterbox, after all)!
Protectiveness – 3 stars
How slim is it – 3.5mm / 0.14 inches
This is one of Spigen´s slimmest phone cases (the less protective ´Liquid Crystal´ is a tad slimmer), and at 3.8mm it isn´t THAT much thicker than the other cases on this list!
This case, however, offers military grade drop protection AND incorporates Spigen´s Air Cushion technology! It´s also got a grippy feel to it, so it´s not going to be sliding out of your hand anytime soon!
Overall – slim, protective and grippy … sounds like our kind of case!
Protectiveness – 3.5 stars 

How thin is it? 3.8mm / 0.15 inches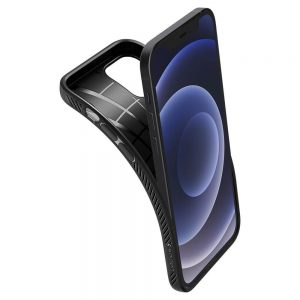 Which phone case is the thinnest?
Unsurprisingly, quite a few different brands lay claim to ´the world´s thinnest phone case´ and, in all honesty, there´s not much in it!
We carefully analyzed the iPhone 12 case specs for the most popular ´ultra-thin´ case brands – ´Peel´, ´MNML´, ´Ringke´, ´Totalee Case´ and ´Ultimate Shield´.
And the result?
It´s a tie! Peel´s ´Super Slim iPhone Case ´ and MNML´s ´iPhone Case´ pip their rivals to the post; at 0.35 mm thick, they both only add 0.01 inches to your device! That´s prettyyy thin!
So, do thin phone cases actually work?
Well, that depends on your definition of work!
As mentioned above, there are many cases on the market that are slim, aesthetic, and protective.
I highly recommend either Spigen´s ´Liquid Air´ or Rhinoshield´s ´CrashGuard NX´ if you´re after something that ticks the above boxes!
The ´ultra slim´ cases (and we´re talking 0.01-0.05 inches thicker than the phone itself) don´t tend to be quite as protective as their ´slim´ cousins (approx. 0.10-0.15 inches thick).
In short, if you´re looking for an armored tank, an ´ultra-thin´ case probably isn´t for you. If, on the other hand, you´re a minimalist and you just want something to protect your phone from indoor wear and tear, you´ll probably never look back!
Erika is a Mexico City based stylist and self-confessed phone case fanatic! She´s been building up her case collection ever since she got her hands on her first iPhone! Her husband reckons that she has more cases than she does clothes!