Have you ever felt a little overwhelmed by the amount of phone cases on the market? Or you´re just not sure which brand to go with? You´re definitely not alone, I too felt downright confused when deciding what case to buy for my brand, spanking new iPhone 6 a few years back.  Five years and a wardrobe full of cases later and I´m ready to help YOU pick out your perfect phone case!
Phone Case Brands: At a glance
In short, Case-Mate should be your go-to if you´re after anything glittery or sparkly, while Velvet Caviar are the winners if you´re looking for uber cute but reasonably affordable. Finally, if you´re after both cute and protective, give Sonix a whirl!
Velvet Caviar is definitely one of my fave brands, their cases are super cute but with a sprinkling of sassiness. 
Honestly, the biggest issue I faced when choosing my VC case was not knowing which one to choose; stylish marble designs sit side by side dazzling rave-style neon pink amazingness.
I eventually went for the ´Starry Night´ case, which seemed to awaken the wannabe astronomer in me.
So, how do Velvet Caviar cases measure up?
I absolutely love the smooth feel of these cases, they´ve managed to get the texture just right and not once has my case felt slippery; just trust me your hands will thank you!
They also feel distinctly protective without the bulkiness that so typically accompanies protective cases. According to their website, VC cases can withstand an 8ft drop and I think my phone can attest to the fact that at the very least they´re easily able to withstand the distance from my pocket / the table / my hands to the floor.
My VC case has also stood the test of time, I´ve been using it regularly for over a year now and have noticed no color fade at all (fading and general deterioration is surprisingly common in the world of phone cases). I also love the fact that VC keeps branding to a minimum. 
Their designs are quite ´loud´ so if you often have ´I want to hide from the world´ days, then maybe they´re not the best choice. I´ve had complete strangers start conversations with me solely because of my VC case!!
My case did also feel a little stiff for the first few weeks, my first attempt at wrestling it off my phone lasted a good couple of minutes. Over time it has seemed to loosen up though (or maybe I just got the hang of it…)!
At $30 these aren´t the cheapest cases on the market but, given the cuteness of their designs and their level of protectiveness, I think you´re actually getting pretty good bang for your buck!
My VC case has become a firm favorite and I absolutely love it´s versatility and protectiveness! Honestly, I think they get the balance between ´stylish´ and ´protective´ just right, I don´t feel like I´ve had to make a compromise!
VC also sell matching phone grips, an absolute lifesaver when taking selfies or if you´re a serial phone dropper!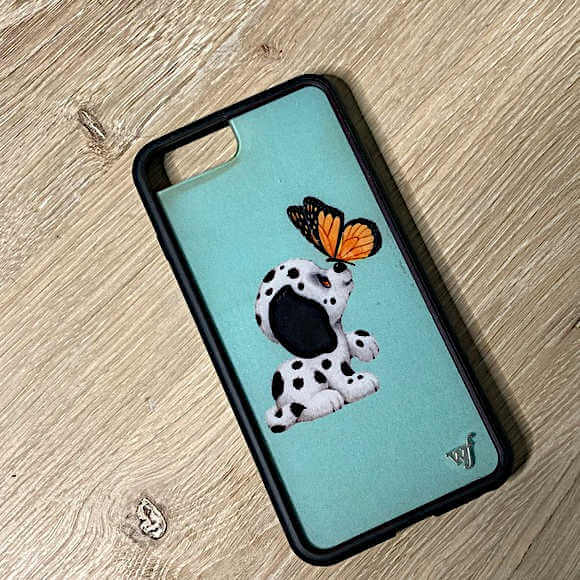 I have to admit that I´ve never really understood the hype surrounding Wildflower, I suppose their designs are kinda cute but I´m definitely not crazy about them either!
Browsing through their current (September 2020) collection, I can understand why a few of their designs are popular (I absolutely ADORE the little Dalmatian puppy with the butterfly on its nose) but there are others, such as ´Devon Carlson Smile´ (quite literally a photo of founder Devon´s smile), that leave me dumbfounded.
For those of you who don´t know Wildflower, they´ve got a pretty cool backstory. Basically, mum Michelle started making cases for her two daughters, and after a chance encounter with Miley Cyrus, her DIY designs started doing the rounds on social media. 
Since then, Wildflower have been able to successfully leverage the power of social media to transform their ´wild-child don´t give a f***´ designs into ´must-have´ fashion accessories.
Anyway, having never owned a Wildflower before, I decided to snap that cute ´Dalmatian´ case up (successfully convincing my husband that I needed to buy it for research purposes).
So, how do Wildflower Cases measure up?
I absolutely loved the fact that my case came with a cute sticker, that was definitely a nice touch! 
I have to admit that the case itself also looks fantastic (maybe I´m just being influenced by the trend, but in terms of aesthetics this one´s definitely a grower) and, despite the fact that it´s handmade, it feels surprisingly sturdy!
I´m not sure if Wildflower cases are the most protective (they actually state on their website that their cases are NOT ´designed to protect your phone when mishandled or dropped´), but at least they provide SOME protection from everyday wear and tear. I´ve dropped my phone a couple of times with my Wildflower case on and it has survived unscathed.
As I mentioned before, I don´t love all of their designs but I do appreciate that maybe they´re just not to my taste! I suppose the slightly quirky, unconventional designs just aren´t for everyone … that´s kind of the point!
Design aside, the only real issue I have with my Wildflower is that it gets greasy quite easily and it can look kind of smudged and dirty. This can obviously be solved with a quick wipe down (probably a good thing to be doing anyway given all that´s going on in the world!).
Wildflower have recently dropped their price to $35, making their cases more affordable than ever. Fans would argue that this is a small price to pay in order to have a Wildflower in your pocket / on your Insta feed!
Although I´ve never been Wildflower´s biggest fan, I must admit that the case I bought from them has become one of my go-tos!
If you´re looking for the case that´s currently trending on Instagram, Wildflower is probably for you! I personally would only recommend them if you´re head over heels with their designs, if not you´d probably do better spending your money elsewhere.
These guys should be your first port of call if you´re after anything glittery, sparkly or paint splashed! A quick browse of their webpage reveals designs such as ´Soap Bubble´ (mimics the rainbow effect of soap bubbles when exposed to sunlight), ´Twinkle´ and ´Confetti Waterfall´ (quite literally a waterfall-style case filled with ´chunky sequins´). 
Of course, there are many other offerings as well, including a funky looking collab with Kodak and the ´tough camo´ case (which I actually have on my phone as I type!).
So, how do Case-Mate cases measure up?
I´ve had a few Case-Mate cases over the years and I´ve generally been extremely satisfied. Not only are these guys the kings of glitter and glam, but their cases are lightweight and ultra-protective (they´re supposedly able to withstand drops of up to 10ft!). 
After years of use, my phone has never broken while holstered in a Case-Mate (and if Case-Mate are the kings of glitter and glam, I´m almost certainly the queen of clumsy).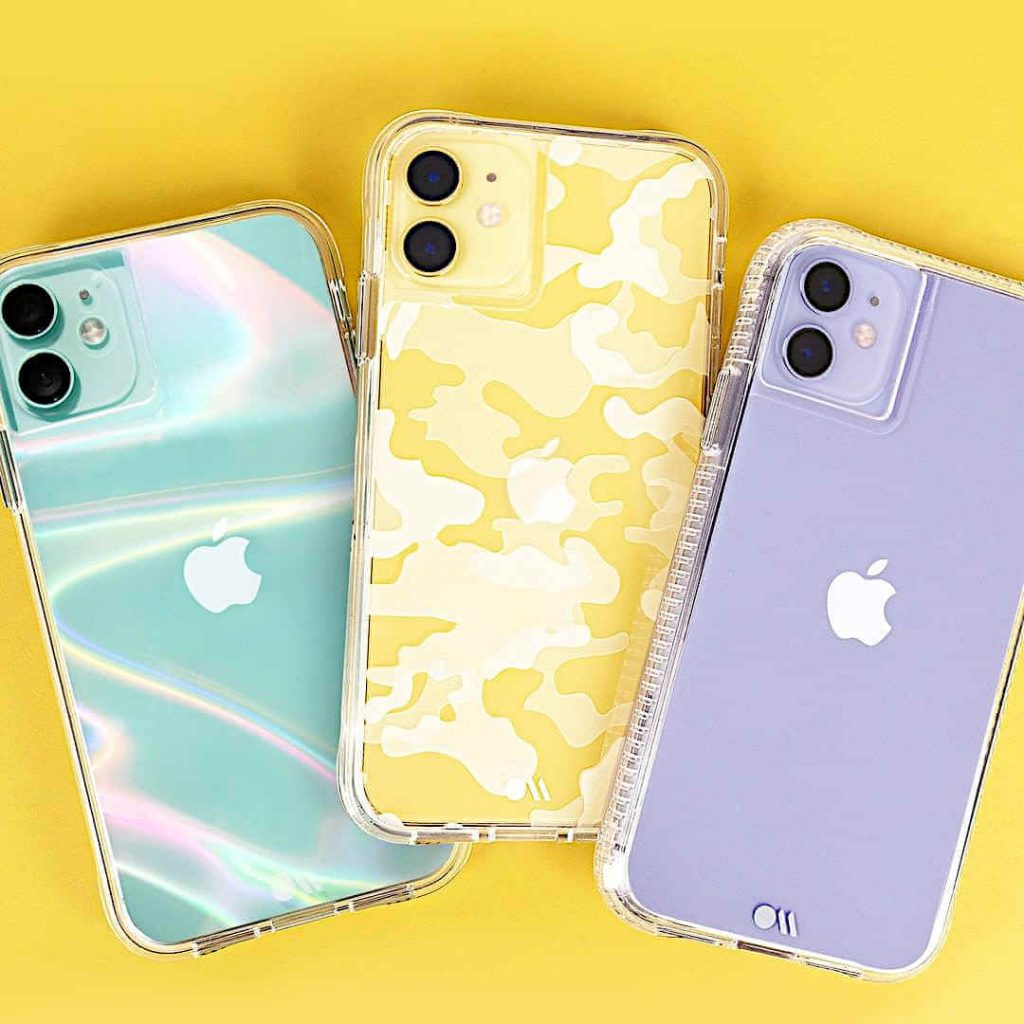 I´ve also noticed that Case-Mate buttons are generally clicky and responsive right from the get-go, there´s no need to ´wear your case in´ which is always bonus!
These cases are made almost entirely of TPU so they do occasionally feel a little slippery in the hands, maybe pair them with a phone grip if you´re a serial phone dropper. 
If I´m going to nit-pick, I´d also prefer for the camera cutout to be fitted not square (i.e. I´d prefer NOT to see so much phone through the hole built for the camera), but that´s really just a minor aesthetic preference!
These cases will set you back $40-45, so they´re one of the more expensive options. That being said, most of the designs are quite elaborate (think waterfalls and soap bubbles) and the cases themselves are ultra-protective so I´d say the relatively high price tag is 100% justified!
Case-Mate are without a doubt one of the top phone case brands! They´ve been in the game for a while now and that´s definitely reflected in the quality of their products. 
For me, these guys score the highest on the ´cute´ vs. ´protective´ scale, get your phone a ´Soap Bubble´ case and you (and it) will understand why!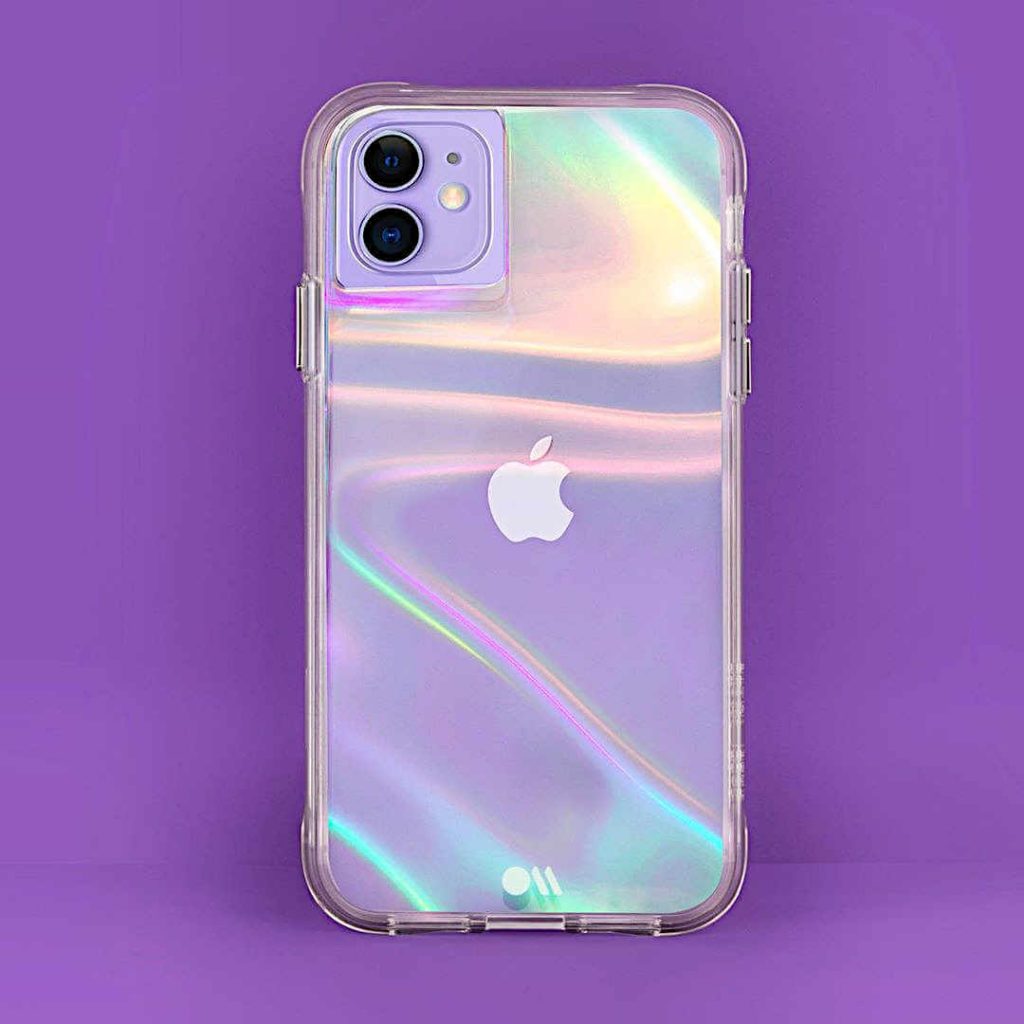 Sonix cases sit somewhere between feminine and funky; a quick browse of their webpage reveals cute floral patterns and pastel colors but also a number of more kooky designs (including ´Lagoon Tort´ which is a deep iridescent blue and ´Goldie´ which kind of looks like a goldfish bowl).  
I personally love the fact that Sonix designs are a tad feminine, they don´t feel as loud and showy as some of the other cases on the market which makes them ideal if you want your case to be a little more discreet but without having to compromise on cuteness.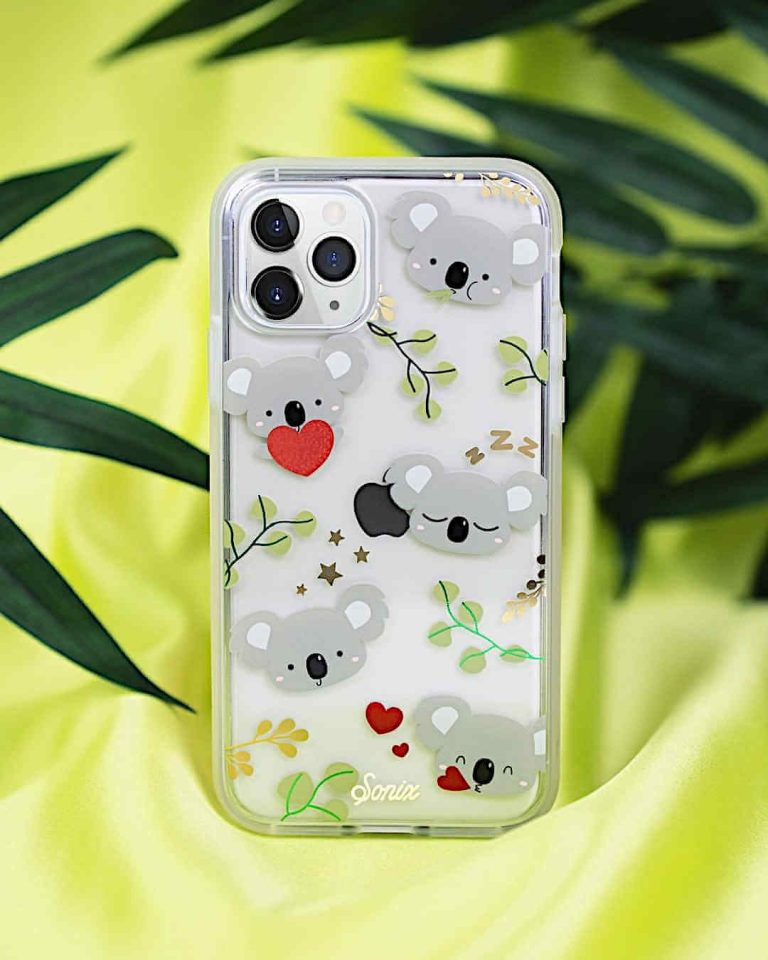 So, how do Sonix cases measure up?
I´ve had a few Sonix cases in the past and, honestly, I´ve only got good things to say about them! I actually impulse bought another one just a few months back (go check out the ´Koala Love´ case and you´ll understand why).
So, designs aside, what´s to like about Sonix ? 
Well, these cases aren´t just a pretty face, they´re pretty darn resistant too (and we´re talking 10ft drop resistant!). 
They also come with a scratch resistant protective coating and I´ve definitely noticed that my Sonix cases have been less prone to scratching than a number of other cases in my collection.
Sonix cases also have slightly raised, shock-absorbent sides. Not only does this ´bumper´ protect your screen, but it gives a really nice grippy feel to the phone (these cases won´t be sliding out of your hands anytime soon). 
As with any decent case, all ports are easily accessible and the buttons don´t require much wearing in! So, all in all, a massive thumbs up!
My personal experience with Sonix cases has honestly been all rainbows and unicorns. It would seem that online reviewers generally agree with me as Sonix seem to get particularly good press (a few customers unhappy about having to pay for postage on returns seems to be the only recurring complaint)!
Cases in Sonix´s new collection are priced between $35 to $40, but older designs can be snapped up for only $19. I´d say that, all things considered, they´ve got their price point just about right. If you´re feeling hard up you could always wait a few months for the case you´ve had your eye on to go on sale.
As you can probably tell, I´m a long-term fan of Sonix and I firmly believe that any phone case fan worth their salt would do well to add a Sonix case to their collection. Highly recommended!
The undisputed king of the ´fashion´ phone case, Casetify claim to reach an eye-boggling one in seven Millennials around the globe. Rising to fame on the back of customizable cases, they now boast a dizzying array of fun, funky and fresh designs ready to accommodate even the most particular of tastes.
Having purchased quite a few of their cases in the past, Casetify most definitely ´reached´ me many years ago and I still can´t seem to release myself from their ironclad grip!
So, how do Casetify cases measure up?
Casetify still lead the way in terms of case customization, they have four ´styles´ of case available (´Impact´, ´Ultra Impact´, ´Mirror´ and ´The Essential´), the full range of colors AND an add text option with which you can write literally anything that pops into your mind on the back of your case.
With such a high degree of personalization, it´s almost impossible not to find something you like!
Want someone else to do the designing? No problem! Casetify also have a whopping selection of ´pre-designed´ cases including some epic collabs (DHL, Heinz and Hello Kitty designs were all available at the time of writing).
Casetify cases are also super protective and, just like with everything that emerges from their factory / lab / wherever it is that they make their cases, YOU can choose just how protective you want your case to be!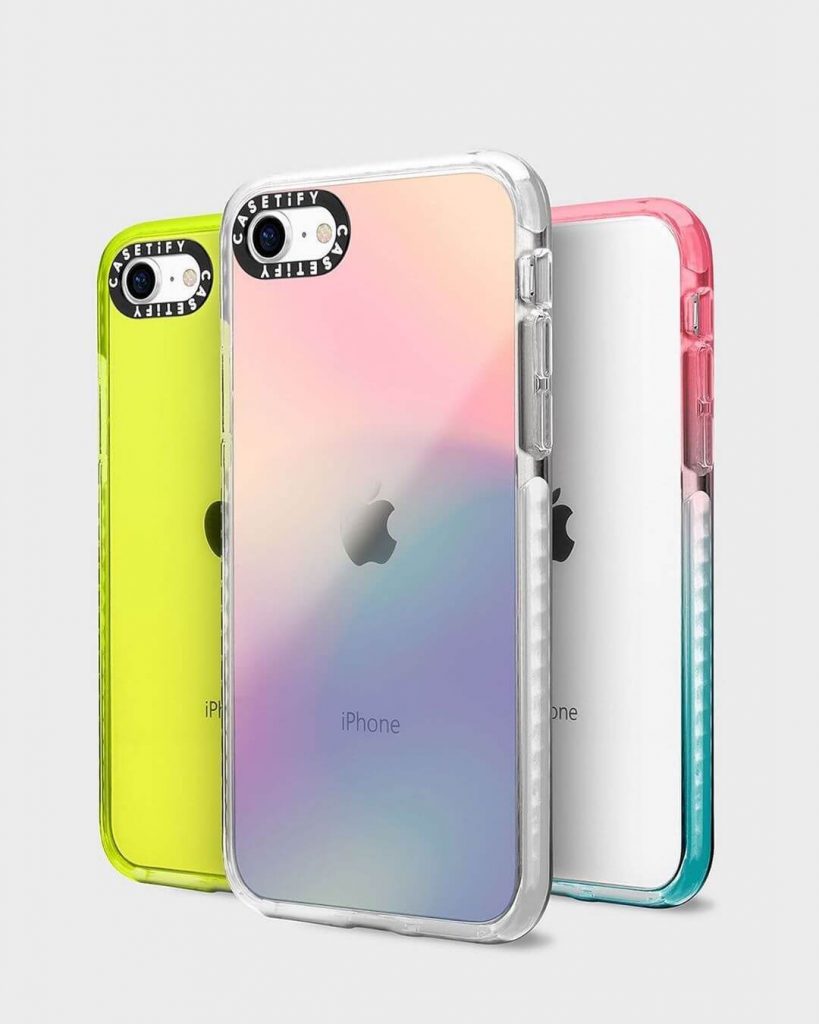 Being the giant that they are, it´s got to be pretty difficult to keep everyone happy, but I have read a few reports of phones breaking while sheathed in a Casetify.
I get the feeling that being at such a high price point, customers expect their phone to NEVER break or scratch when using a Casetify. 
No case is 100% protective (unless you quite literally wrap your phone in cotton wool – would that even be considered a case?) and it´s important to remember that the high price tag is just as much about the brand name and cuteness factor as it is the level of protectiveness.
For me personally, the prominent branding (´CASETIFY´ is printed in white letters around the camera opening) is also a negative, but I´m not the world´s biggest fan of branded products.
Casetify cases are definitely on the pricey side, you´ll be hard pressed to find anything under 40 dollars. That being said, if you´re customizing, you´re literally ordering a one-of-a-kind product so I suppose their pricing is kind of reasonable.
There´s no denying that in the world of ´fashion´ phone cases, Casetify still rule supreme. Put simply, no phone case collection is complete without a custom Casetify in its ranks!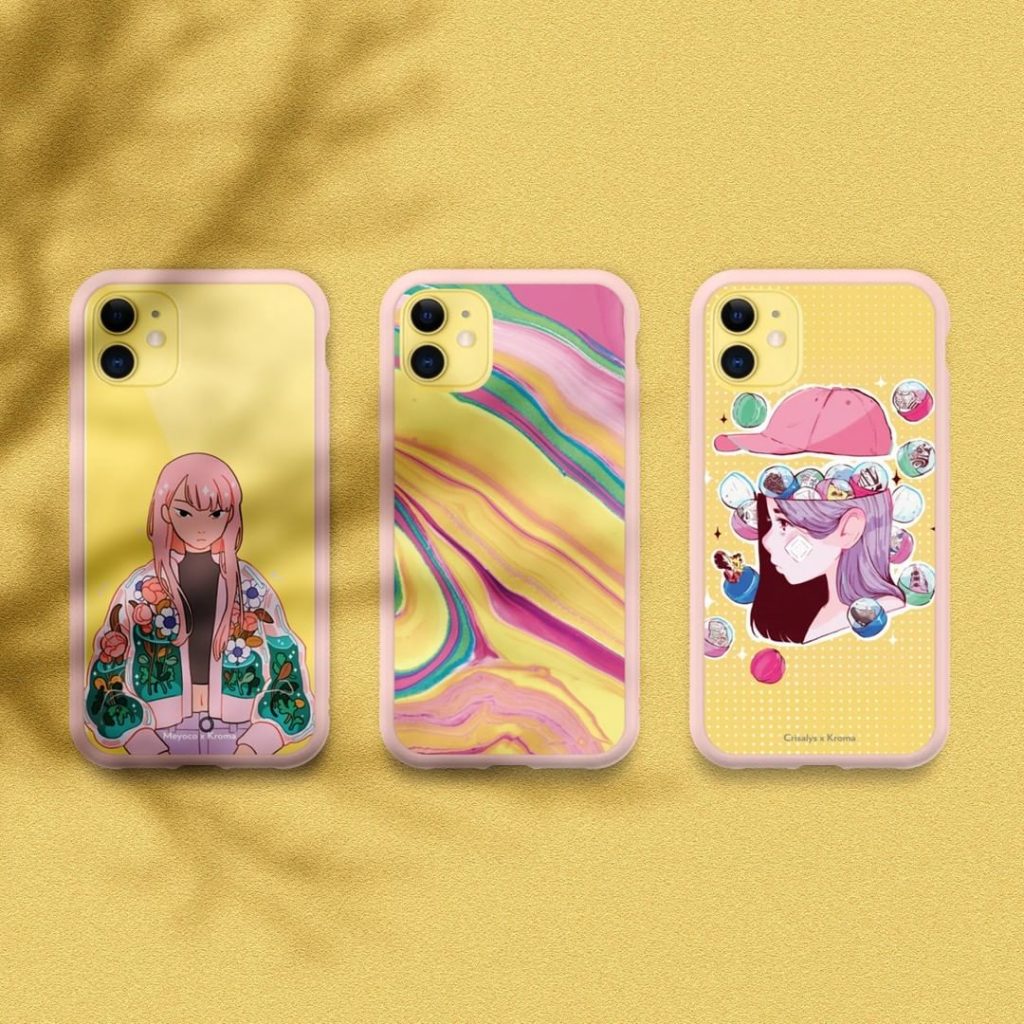 Kroma is one of my very fave phone case brands for quite a number of reasons!
These guys aren´t afraid to break the mold and, instead of the usual rehashed trends, their designs have a quirky feel to them. 
Some of their collabs are nothing short of awe-inspiring, think anime-inspired artwork (´Vinnie´s Collection´), dreamlike depictions of the Tokyo subway (´Surudenise´s Collection´) and a surreal modernist take on cubism (´Sinister Squid´s Collection´). 
The cases themselves are also pretty unique, they´re composed of a ´backplate´ and ´frame´, both are interchangeable so you can switch to a certain color or style depending on your mood / inclination (you´ll never have problems coordinating your case with your outfit again!).
So, how do Kroma measure up?
Where do I start? Well, I absolutely love the feel of all my Kroma cases, the frame sits perfectly in my hand and I swear I drop my phone less when it´s wearing a Kroma!
Kroma cases are also built using Rhinoshield´s ´ShockSpread´, a revolutionary material that is supposed to be both tough and flexible! According to Kroma´s webpage, their cases far exceed military grade protection, withstanding drops of up to 11ft (although I can´t say I´ve had the guts to test this for myself)!
If all that weren´t enough, Kroma´s products are also free of BPA (bishphenol A), a chemical often found in plastic which is thought to be linked to fertility problems and heart disease!
It´s hard for me to fault Kroma as their cases have got my phone out of many a pickle (thank you very much clumsy hands); not to mention the fact that they´ve been one of my wardrobe staples for quite some time now!
I would though say that changing up the backplate is not the easiest of tasks as the case wraps nice and ´snugly´ around your device. I suppose this also means that your phone isn´t going to slide out of its case anytime soon (FYI – this has actually happened to me in the past, the culprit obviously wasn´t a Kroma)!
At approx. $40 for a case these will definitely leave a little dent in your pocket / purse / piggy bank BUT the backplates themselves cost an extremely affordable $15 so think of the first payment as an initial investment – from then on out you´ll basically be able to buy a ´new´ (and pretty epic) case for $15! 
If you´re into funky designs and exchangeable parts then these are the cases for you! As the saying goes – ´Once you try Kroma, you won´t look any further´ (DISCLAIMER – not an official slogan, I may or may not have made it up just now).
Case-Mate may be the kings of glitter and glam, but Gocase reign supreme over all things floral and feminine. Their cases ooze femininity and are characterized by tasteful pastel colors and flowers galore.
Gocase also boast some super cute BFF cases (you can even choose the hair style + skin color)! My BFF and I have literally THE CUTEST BFF cases from Gocase – two friends in a fast-food restaurant, the girl on my case is balancing a chip on her upper lip.
In stark contrast, I´ve seen quite a few BFF designs on Instagram in which (quite incredibly!) the ´best friends´ look super sexualized, think big butts and ´ample´ cleavage.
Another big plus point for Gocase is that you can choose exactly how protective you want your case to be, they offer the classic ´Soft Flexible´, the protective ´Deluxe Matte´ and the ´Anti Shock´ (which offers military grade protection)!
So, how do Gocase measure up?
I personally have only had experience with the ´Soft Flexible´ cases and, cute design aside, they´ve lived up to all my expectations. All buttons are easily accessible and, being a soft case, it doesn´t feel bulky in the pocket or cumbersome in the hand.
For the purpose of this review we actually drop tested (not from TOOOO great a height though) my friend´s ´Anti Shock´ case, and lo and behold, not even a scratch!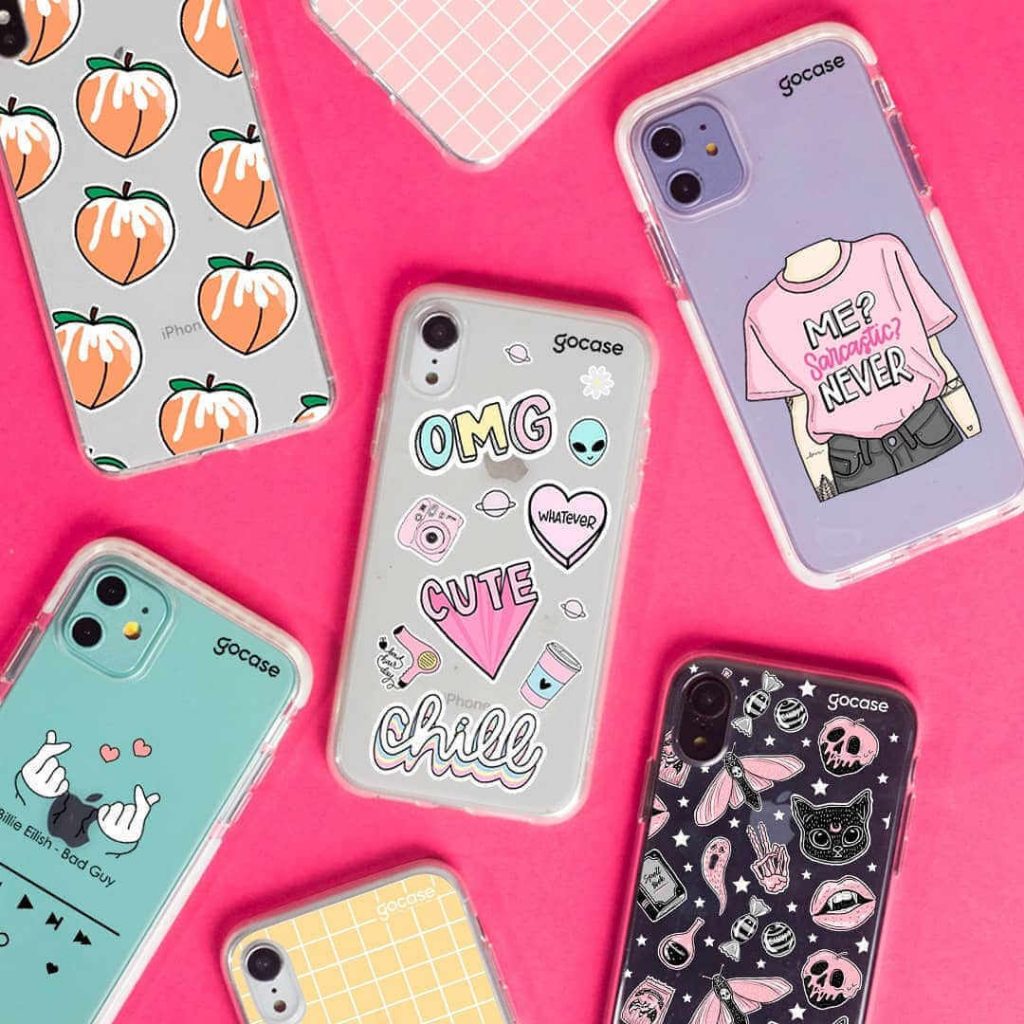 For those who like their case to have a personal touch, most designs can be personalized with your name or initials. I´ve always thought that ´Gocases´ make the best presents of because who´s not going to love a gift which is both cute AND personalized?
I´m the proud owner of 2 ´Gocases´ and, I have to say that I´m a very happy customer! Both my cases are of the ´Soft Flexible´ variety so they´re obviously not that protective, but if you´re after a fortress just order the ´Anti Shock´.
Gocase do seem to have received a number of negative reviews for slow shipping times over the summer, but this seems to be due to the effect that COVID19 had on both the company and the world at large. I imagine both Gocase and the postal services were short staffed AND being forced to wade through a sea of bureaucracy (we all know what that's like…)!
The beauty of Gocase is that they have cases to suit all budgets – the ´Soft Flexible´ is under $25, while those who want the very latest in phone case technology can opt for the pricier ´Shock Impact´.
If you´re after cute, feminine designs then Gocase should be your go-to! Their range of pricing also means that their cases are accessible to just about everyone!
I can´t really review Strawberry Cases because it´s my own brand (yay!) and, well, I´m kind of biased. I will though say that we think we´ve struck upon the perfect balance between cute (but not TOO cutesy) and trendy (but without being flashy or OTT).
If you´re curious, head over to our website, I´m sure you´ll like what you find!
Sorry for the shameless self-promotion, but I couldn´t write this article and not give my own cases a mention!
Have you bought phone cases from any of these companies?
Write your comments / musings / stories below!
Erika is a Mexico City based stylist and self-confessed phone case fanatic! She´s been building up her case collection ever since she got her hands on her first iPhone! Her husband reckons that she has more cases than she does clothes!